XX Operator & CNC Operators
3 months project activities per project
40 hours CNC machine trainings
22 hours of robotics and automation
16 hours soft skills training in total
16 hours Design thinking training in total
Hands-on experimental learning
The overall goal of the projects was to create preconditions for the employment of 18 women in the industrial sector, their stay and business in Tuzla, Bosnia and Herzegovina, as well as the reduction of the number of unemployed women.
To empower 18 unemployed women
Professional education for CNC operators and work on KUKA industrial robots
The projects "XX Operator" and  "CNC Operators" were implemented by the ITT Foundation in cooperation with the City of Tuzla and DKR German Center for Robotics, with the aim of educating and empowering unemployed women from the City of Tuzla.
Participants in this project had the opportunity to learn from experienced experts from the DKR Center and to gain extensive knowledge about working with KUKA industrial robots and FANUC CNC machine and its management.
The common goal of both projects was to provide the unemployed women of our community with a unique education opportunity for this very promissing profession. The participants were of different ages, with different motives for participation, but all with the same goal: learning and the desire to progress.
After completeing the trainings the participants initiated the process of finding employment, as well as the process of helping them to access end users.
We are very pleased with the outcome of these projects since some of the participants already found an employment, right after finishing their education.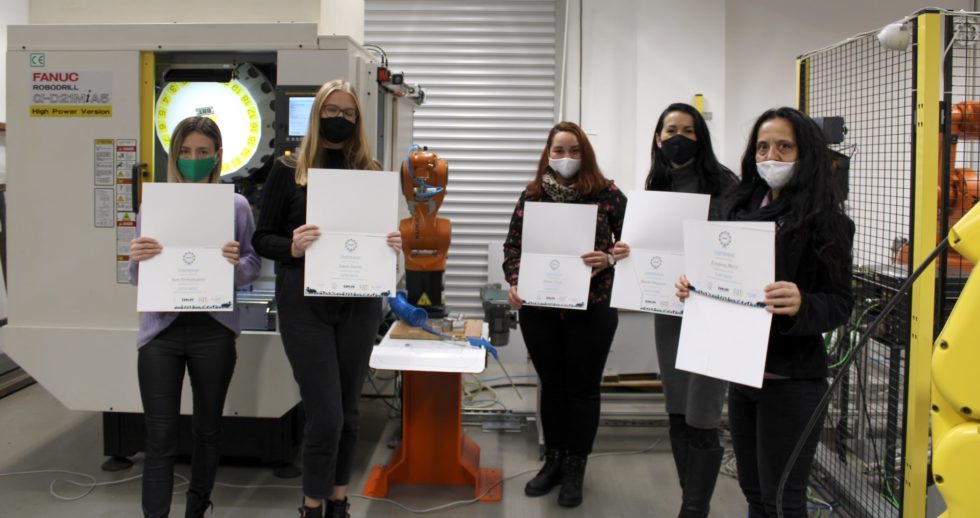 FITT has come to its establishment as a result of socio-economic and political needs in Tuzla and Tuzla Canton. In struggle to reconcile political demands and economic ones, FITT has developed several programs and is currently implementing projects with young people and students to raise awareness on the importance of their participation in decision making processes on local, regional and national level, not excluding wider level, which aim at creating possibilities for young people to take part in social and technological innovation that Industry 4.0 is bringing with. To bridge the gap between practice and theory, all important activities are implemented in the Center for Robotics which is the first center of this kind in the region of Western Balkans.